April 2023 IDPA Report
We had 44 shooters come to our April 22nd match at MCRC. Temp in the bays was near 80 degrees. 4 scenario stages; 1 standards stage; 1 warm up stage. Our IDPA State Coordinator Frank Scalise was in attendance again, thanks for coming down from Greenville and shooting our match.
Winners of each class and their division (from Practiscore):
High Master: Tim Fritz (Concealed Carry Pistol)
High Expert: Jonathan Oliver (Carry Optics Pistol); (also overall High Pistol)
High Sharpshooter: Bill Gertz (COP);
High Marksman: Frank Price (Pistol Caliber Carbine);
High Novice: Geraldo Cruzado (PCC);
High Unclassified: Eric Jackson (PCC); (also overall Match Winner)
Most Accurate: Bob Bailey, down 4 for the match, excellent. 32 shooters made the Most Accurate list (they did not hit a Non-Threat target on any stage).
Setup Crew, Many Thanks: Mike Phillips, Geraldo Cruzado, Bob Bailey, Don Rawls. We need help with setup, period. Geraldo is out this month, so please come out on Friday afternoon May 26th and give us a hand.
Match Breakdown:
Ladies – 1
Juniors (17 and under) – 1
Seniors /Distinguished Seniors – 23
Military – 7
Law Enforcement – 1
(If these numbers don't jive with the overall attendance numbers, it's because some folks choose not to report this info)
Division and Classification breakdown:
Carry Optics Pistol had 22 shooters. Enhanced Service Pistol had 5; Stock Service Pistol had 8; Custom Defensive Pistol had 3; and Concealed Carry Pistol had 3; and Back Up Gun had 1 shooter. Pistol Caliber Carbine had 4 shooters, but they occupied 3 of our Class winners. Maybe next month I will keep them in a separate winner category. Let me know what you think.
Sharpshooter class had the most shooters at 15…
Stage ideas:
Any shooter is welcome to submit a stage design, or even just some rough ideas for a stage design. I can share our Power Point stage design program, along with some prior stages that would be easy to modify. The May match will be a Themed Specialty Match, see details below.
April Stage Breakdown:
Stage 3, "Kriss Kross"
Eric Jackson (PCC) was fastest on this stage with a raw time of 18.80 seconds, with 1 point down.
3 shooters hit a non-threat target and received a 5 second penalty; 6 had a procedural error; and no shooters went 0 down.
Take a look at it below and see how you would approach it: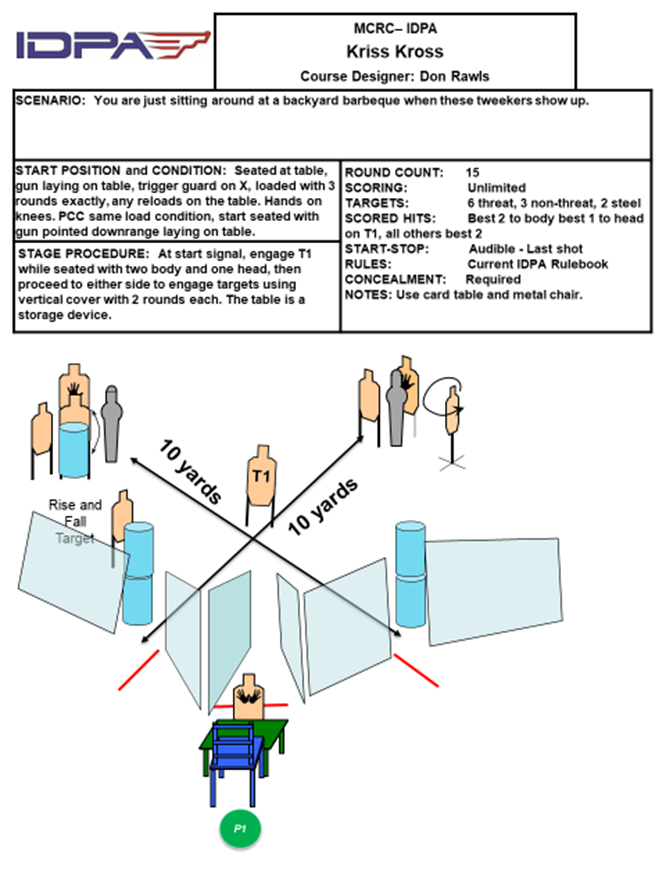 Next match will be Saturday May 27, 2023. This will be a Themed Specialty Match, and the theme will be "Famous Movie Shootout Scenes". We will offer a few prizes, including movie tickets and IDPA gear. Details will be provided in our normal email announcement.
Comments are appreciated below if you are viewing this on our Facebook page IDPA at MCRC. Or at our e-mail address [email protected].
[submitted by Don Rawls, A653878, MCRC IDPA]