February 2023 IDPA Report
We had 35 shooters come to our February 25th match at MCRC, despite early morning rain showers. Temp in the bays was 55 degrees. 5 scenario stages. Our IDPA State Coordinator Frank Scalise was in attendance and finished in first place in Stock Service Pistol (SSP) division.
Winners of each class and their division (from Practiscore):
High Expert: Bob Bailey (Carry Optics Pistol); (also Overall Match Winner)
High Sharpshooter: Carl Thompson (SSP);
High Marksman: Matthew Stugart (COP);
High Novice: Daniel Koval (COP);
High Unclassified: Kevin Crapps (Kilo Charlie) (COP);
Honorable Mention: Geraldo Cruzado had a1-2 finish in the Most Accurate Category using a PCC and a COP. Also Kilo had a 5th place finish overall, I think this was the second IDPA match he has shot. Excellent job to both of them.
Setup Crew, Many Thanks: Mike Phillips, Geraldo Cruzado, Bob Bailey, Don Rawls. We need help with setup so if you attend our match, please volunteer at least one Friday a year. You will like seeing what goes on behind the scenes, and how stages are worked out on the ground.
Match Breakdown:
Ladies – 0
Juniors (17 and under) – 1
Seniors /Distinguished Seniors – 18
Military – 4
Law Enforcement – 0
Division and Classification breakdown:
Carry Optics Pistol had 13 shooters. Enhanced Service Pistol had 4; Revolver had 3; Stock Service Pistol had 7; Custom Defensive Pistol had 5; and Concealed Carry Pistol had 3 shooters. Pistol Caliber Carbine had 2 shooters. We had 15 combined Expert and Sharpshooters, 9 Marksmen and 16 Unclassified shooters.
Stage ideas:
Any shooter is welcome to submit a stage design, or even just some rough ideas for a stage design. Maybe something you have shot at another club. For April's match at MCRC, I am planning on using some of Frank's stages from the Battle of Belton Tier 2 match being held March 17-18 at BGC.
Stage Breakdown:
Stage 4, "Dog Stage"
Bob Bailey (COP) was fastest on this stage with a raw time of 19.41 seconds, with 0 down.
7 shooters hit a non-threat target and received a 5 second penalty; 1 had a procedural error; and 2 shooters went 0 down.
Take a look at it below and see how you would approach it: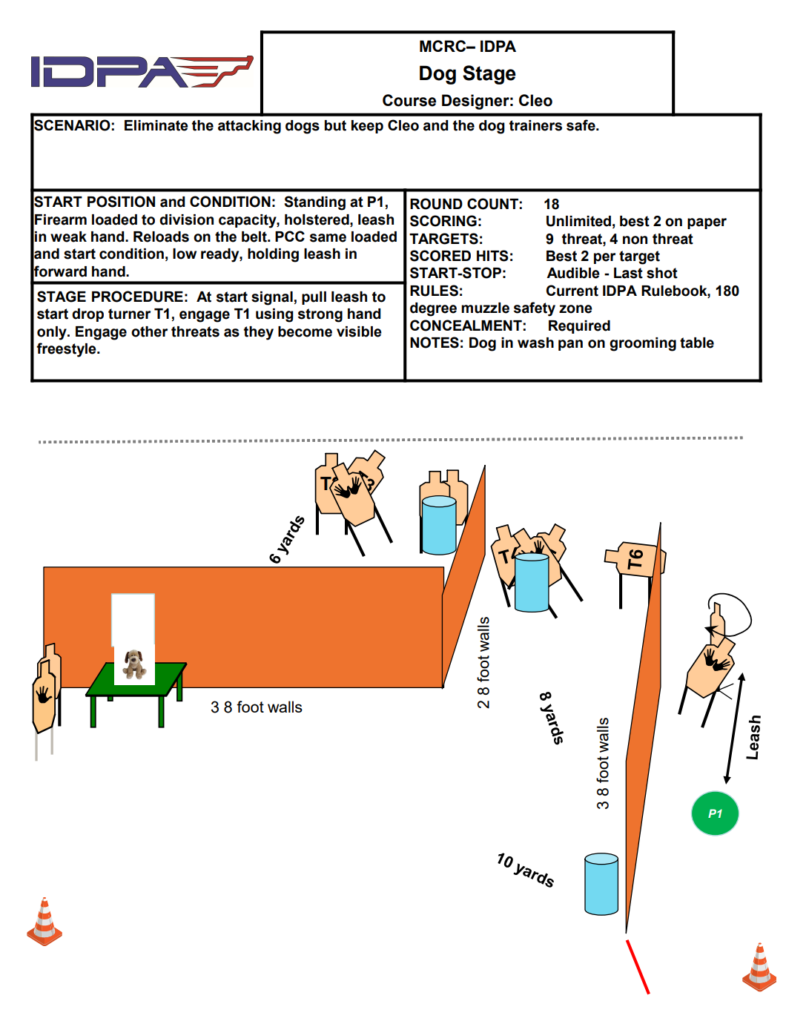 Next match will be Saturday March 25th, 2023. This will be our annual Classifier Match, with both 72 round Standard Classifier and 5 X 5 Abbreviated versions being offered.
Comments are appreciated below if you are viewing this on our Facebook page IDPA at MCRC. Or at our e-mail address idpaatmcrc@gmail.com.
[submitted by Don Rawls]