We had 113 shooters at the USPSA 2021 Thompson – Daugherty Memorial Toys 4 Tots Charity Match this past weekend. Thank you to all who participated, donated, worked as a volunteer, and created another memorable Toys for Tots Charity match at MCRC.  All the help with tear down afterwards was also appreciated. Special Thanks to our Match Directors Mike Wingard & Derrick Hernandez, our stage designers Aaron Banks & Rob Ravina, our MCRC volunteers: David Davis, Nelson Thompson, Chuck Henderson, Roy Mefford, Derrick Miller, Jim Shaw, Stephen Tuel, Wes Bommer, Tim Fritz, Bob Furnald, David Marino, and Bob Merritt.  Also some future club members Shannon Davis and Mike Taluskie volunteered their time.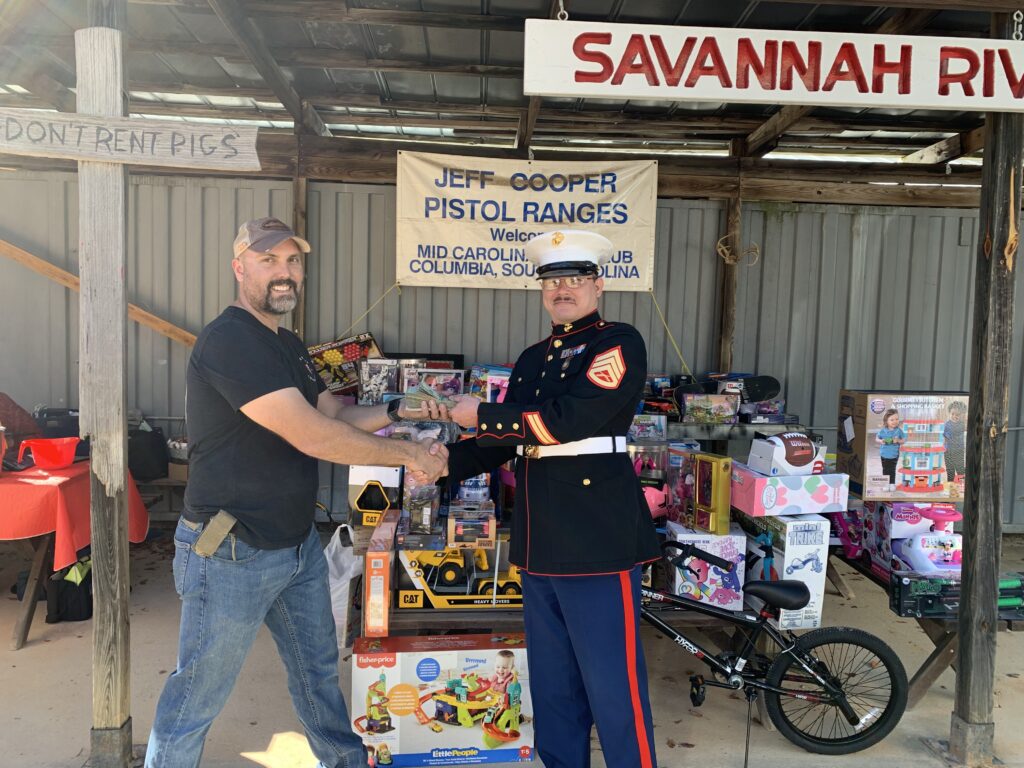 So far $5,395 donated to Toys for Tots & a van filled with toys.
 Huge thanks to our Sponsors: Palmetto State Armory, Amick Guns, M-W Tactical,
and Hoppe's. And SUL-TAC for the primer raffle. And Metro Street Grill Food Truck for Sunday eats.

1st place Open: David Lyell
1st place Limited: Tyler Meiseheimer
1st place Carry optics: Chris Kozell
1st Place Production: Ronnie Staten
1st Place Single Stack: Nathan Carter
1st Place PCC: Jon Davis
Results are posted at 2021 Thompson – Daugherty Memorial Toys 4 Tots | PractiScore. The results will also be available at www.USPSA.org (for those of you who are USPSA members – club code SC02).
The usual USPSA – IPSC matches are held the second Saturday of each month. We are using online registration which starts the Monday prior to the match. Contact Linda Chico at LChico@sc.rr.com to add your name to the notification list. Sign in at the range starts at 9:00 am. Shooting starts at 10:00 am. (Winter Hours) Juniors are free. New shooters are half price ($11). Set-up for the match is on the preceding day on Friday afternoon. If you are interested in coming out and trying a shooting sport that involves running and gunning, you can start with very nearly any centerfire pistol if you have enough magazines for it.
Our Next Match will be our Christmas Match on 11 DEC 2021, planning for 5 field courses and a classifier.