August 2022 IDPA Report
We had 33 shooters come to our August 27th match at MCRC. The match was our annual BUG (Back Up Gun) Friendly Match, with shorter distances and lower round counts on all stages. Weather was clear, temp in the bays was 85 degrees. 6 scenario stages.
Winners of each class and their division:
High Master: Bob Bailey (Stock Service Pistol) Also Overall Match Winner;
High Expert: Jonathan Oliver (Back Up Gun Auto) Also High BUG;
High Sharpshooter: James Elks (SSP);
High Marksman: Don Rawls (Carry Optics Pistol);
High Novice: Bosco Wang (COP);
High Unclassified: Rob Doughton (Rimfire);
Honorable Mention: Jim Kornilieff (High BUG Revolver);
Most Accurate: Geraldo Cruzado (COP) was 1 down for the match (COP).
Setup Crew: Mike Phillips, Stevie Phillips, Geraldo Cruzado, Don Rawls, Tim Fritz and Bob Bailey. Regular shooters please commit to come out one Friday afternoon, one month a year to assist with setup. You get to shoot for free and you get a sneak preview of all the stages. Who knows, you may be inspired to come up with your own stage design!
Match Breakdown:
Ladies – 1
Juniors (17 and under) – 2
Seniors /Distinguished Seniors – 21
Military – 5
Law Enforcement – 1
BUG Match Special Category – 13 Back Up Guns (Auto and Revolvers)
Stage Breakdown:
Let's take a minute to look at and break down a simple stage that was shot this month. Stage 2, "BUGGY House Clearing".
Bob Bailey was fastest on this stage with a time of 12.99 seconds…
9 shooters went 0 down (meaning all 12 of their shots were all placed inside the 8" body circle and/or the 4" head circle)…
5 shooters hit a non-threat target and received a penalty…
Take a look at it below and see how you would approach it: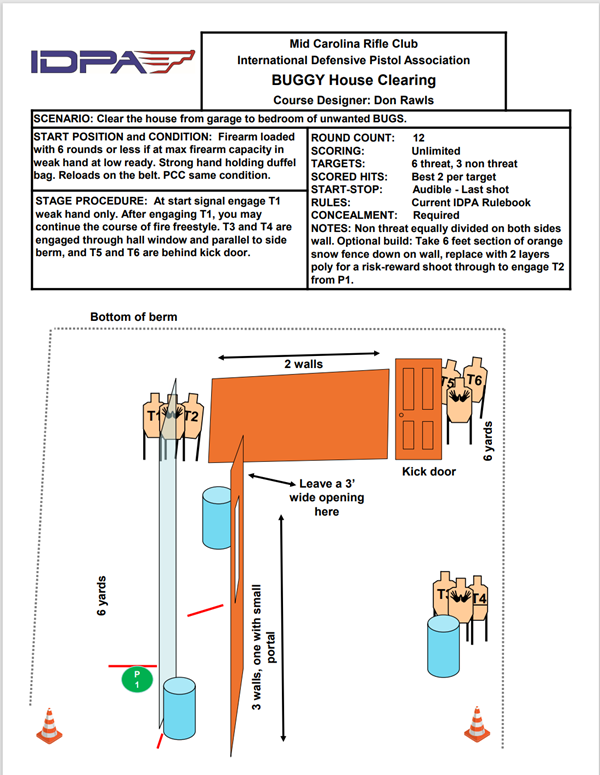 Next match will be Saturday September 24, 2022. Please come join us. Spread the word and bring someone with you!
Comments are appreciated below if you are viewing this on our Facebook page IDPA at MCRC. Or at our e-mail address idpaatmcrc@gmail.com.
[submitted by Don Rawls]