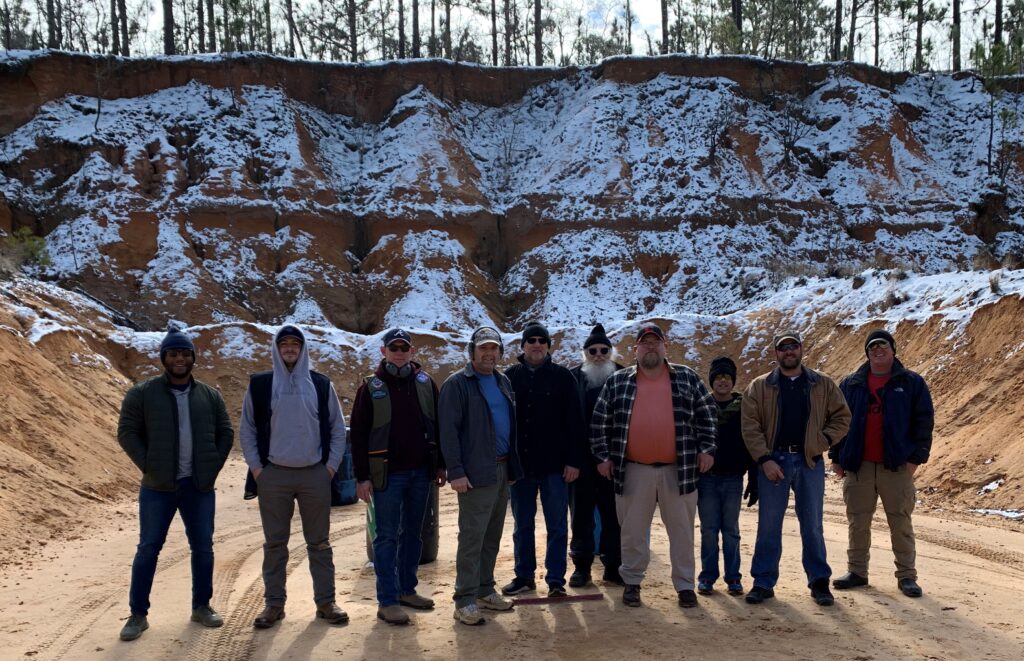 [left to right] Eric Jackson, Tim Perkins, John Johnson, Jamie Elks, Don Rawls, Bill Kilgore, John Champoux, Stevie Phillips, Mike Wilkerson, and Aaron Banks. Photo by Mike Phillips.
January 2022 IDPA Report
We had 11 shooters come to our January 22nd match at MCRC despite frigid morning temps in the 20's, fresh snow and sloppy bay conditions. We decided to build the 5 stages on Saturday morning and delay the start time until noon. Stages were simplified and all had limited movement due to conditions. A special welcome to 2 USPSA shooters, Aaron Banks and Eric Jackson. Both competed in Pistol Caliber Carbine division. Our next match is Saturday February 26th at 10 am.
Winners of each division:
High Master: Mike Wilkerson (Pistol Caliber Carbine) (also overall match winner)
High Sharpshooter: James Elks (Enhanced Service Pistol)
High Marksman: Mike Phillips (ESP)
High Novice: John Champoux (Carry Optics)
Special Note: I want to thank all of the shooters that have come to MCRC IDPA in the past year, my first year serving as Co-Match Director. I don't think I have accomplished my goal of doubling our participation, but I do feel like I made a good effort and will continue to make sure we hold fun and challenging matches. Here is a general outline of what you can expect this year:
February is our yearly Classifier Match, we offer the 72 round standard IDPA classifier and the abbreviated 25 round IDPA classifier. IDPA members are required to shoot the classifier at least once a year. This will be the only time we offer the 72 round classifier this year.
March we will gear up going into spring by offering the "Introduction to IDPA" class at the range on the third Sunday. The March match is usually a very good match with lots of props, moving targets, the real car.
April, May and June are always loaded up with fun scenarios. Not too roasting hot in the bays.
July and August are usually scaled back matches due to extreme heat. Less movement, less setup.
September and October we will include the abbreviated classifier in one of these matches. Cooler temps increase the scale of the stages back to the springtime level.
November is our annual Toys for Tots Fundraiser match. Always fun and a few new stages are snuck in along with some old standbys. The match is held Thanksgiving weekend, so our attendance is not great. But with nearly everyone off work the day before, we have plenty of stage builders available.
Every month: We plan for five stages at every match (other than the classifier match) with at least one of these being a standards stage. Sometimes we include a warm up stage of 4 or 5 rounds. Most matches are 80 rounds or less.
All of our matches are held the fourth Saturday of each month. We post information on our Facebook page, the MCRC Club website under our discipline, and via direct e-mails we obtain from interested folks. Our email address is IDPAatMCRC@gmail.com.
Please come join us.
[submitted by Don Rawls]