November 2022 IDPA Report
We had 26 shooters come to our November 26th match at MCRC. Weather was clear, temp in the bays was 60 degrees. 6 scenario stages, including shooting out of the VW convertible.
This was our annual Toys For Tots fundraiser match, and we raised over $700. Thank you shooters for your donations to this worthy cause. Pete donated a brand-new girls bike and helmet.
The concession stand that IDPA ran for the USPSA Toys for Tots was also a success, with profits we donated $100 to Ms. Linda and had enough left over to purchase a cordless rotary hammer that greatly simplified setup. Thanks to John Champoux for manning the grill on Saturday and Geraldo and Yolanda Cruzado for assisting on Sunday. And thanks Cricket Rawls for working both days.
Winners of each class and their division (from Practiscore):
High Expert: Bob Bailey (Carry Optics Pistol) Also Overall Match Winner;
High Master: Tim Fritz (CCP);
High Sharpshooter: James Elks (COP);
High Marksman: Don Rawls (COP);
High Novice: Geraldo Cruzado (PCC);
High Unclassified: Shawn Morley (SSP);
Most Accurate: Shawn Morley (SSP) was 6 down for the match.
Setup Crew: Mike Phillips, Stevie Phillips, Geraldo Cruzado, Don Rawls
Match Breakdown:
Ladies – 0
Juniors (17 and under) – 1
Seniors /Distinguished Seniors – 19
Military – 6
Law Enforcement – 1
Division breakdown:
Carry Optics Pistol had 8 shooters. Enhanced Service Pistol and Concealed Carry Pistol had 3 shooters each. Stock Service Pistol had 7 shooters.
Stage Breakdown:
Stage 1, "ATM Issues".
Gerald Douglas (Expert – Custom Defensive Pistol) was fastest on this stage with a raw time of 26.52 seconds, with 3 down.
3 shooters hit a non-threat target and received a 5 second penalty; 2 had a procedural error; and no shooters went 0 down.
Take a look at it below and see how you would approach it: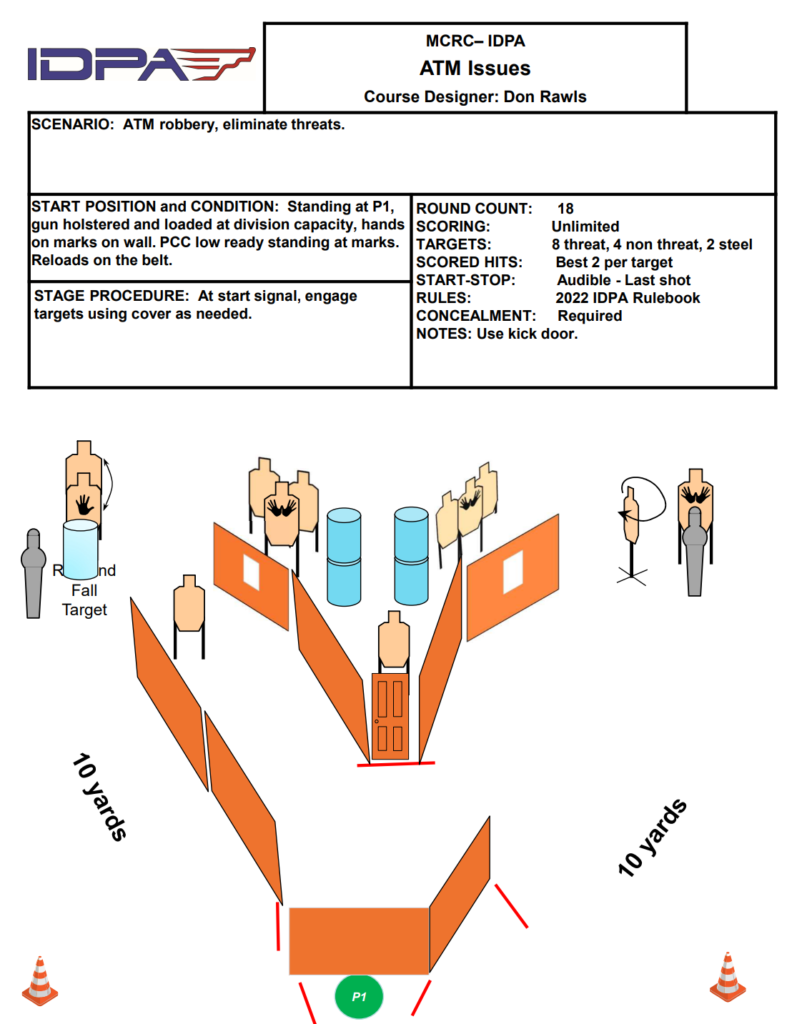 Next match will be Saturday January 28, 2023. Please come join us. Spread the word and bring someone with you!
Comments are appreciated below if you are viewing this on our Facebook page IDPA at MCRC. Or at our e-mail address [email protected].
[submitted by Don Rawls]